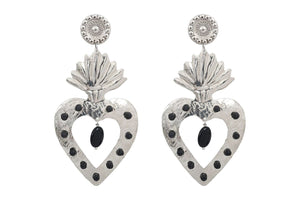 Our best selling LOVA earrings are handmade by artisans in Italy. Black pearls and silver-tone hammered heart bring the dolce vita touch to every look. Dress them up or down.
Each piece is one-of-a-kind unique and individually crafted, so some small variations might exist. Available with a Pierced Post or Clip-On.    
PRODUCT INFORMATION : Silver Brass, Nickel-Free 925 Silver Sterling plated Pierced Post or Clip-on back . Made in Italy.
CARE: These artisan earrings are delicate and fragile, so they require gentle care. Keep in pouch when not wearing to protect from potential stains and damage.