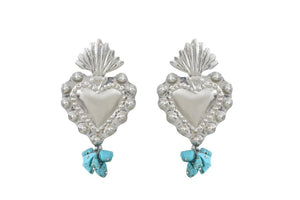 A refined silver heart with a beautiful garnish of natural turquoise embellishments and a bulbous trim. Packs the perfect amount of color and length for a seaside vacation or beach getaway. Every earring is individually hand-crafted in Italy, so each piece is one-of-a-kind unique.                                                        
Available with a Pierced Post or Clip-On.                                                             

PRODUCT INFORMATION : Silver  Brass, Natural Turquoise,  Nickel-Free. 925 Silver Sterling plated Clip-on back or Pierced Post. Made in Italy.
CARE: These artisan earrings are delicate and fragile, so they require gentle care because they can not be cleaned. Keep in pouch when not wearing to protect from potential stains and damage.