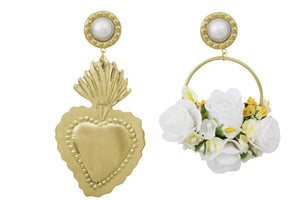 A mismatched pair of LOVA earrings complete with a pure white fabric flowers and a golden-plated heart. This asymmetrical pair of handmade earrings is versatile and perfectly one-of-a-kind.  Each piece is one-of-a-kind unique and individually crafted in Italy, so some small variations might exist.                        Available with a Pierced Post or Clip-On.
PRODUCT INFORMATION : Golden Brass, Fabric Flowers, Pearl, Nickel Free. 14K Gold Plated Pierced Post or Clip-on back. Made in Italy.
CARE: These handmade earrings are delicate and fragile, so they require gentle care because they can not be cleaned. Keep in pouch when not wearing to protect from potential stains and damage.